Five benefits of having an email ad server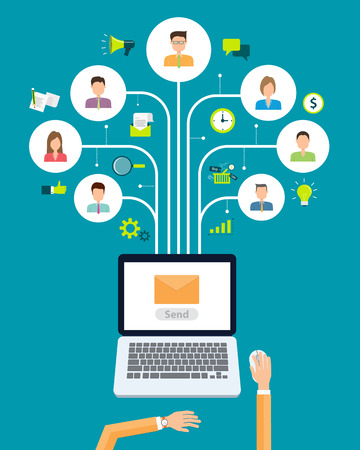 We are all well aware that there is money to be made from online advertising, whether directly promoting your own products/services or serving ads for your advertisers. If you have built up a large mailing list over the years and are not including ads in your emails and newsletters, you could be missing out on a lot of money. Going with an
email ad server
has a lot of benefits, some of which we will discuss in a moment, and you will find it to be a great way to increase your income using email advertising. Let's get to some of the benefits of having your own email ad server:
Monetize your subscribers
The people who have explicitly signed up for your mailing list have already made it clear that they want to hear from you. That is a huge advantage over other lead generation methods. Placing ads in the newsletters and emails that you send out to your subscribers will likely mean that you get a better-than-average response because of that high level of trust. The assumption will be that if you are promoting something, it must be good and of value to the people in your list.
Monetize transactional messages
Whenever you make a purchase online, the vendor will almost always send you an email confirming your order or updates on your existing order. There are millions of these routine and seemingly boring emails going out every day. When it comes to online transactions, consumers tend to go over those messages again with a fine-tooth comb to ensure that the purchase is as it should be. At this point, you are reaching someone who is already in a buying mood, so what better time to tempt them with another offer by placing ads in those transactional emails?
Cross-promotion
If you go online to buy a printer for your home or office, chances are that the seller will also try to sell you extra ink cartridges at the point of sale. This is cross-promotion and it is very common. There are all kinds of ways that you can use ads to sweeten the pot on a specific offer. You could try pairing your own items or perhaps add something from your value-added partners that will perfectly complement the products that you are promoting in your email campaign.
Ad flexibility
With an email ad server, you have the flexibility to switch between different ads and advertisers so that you can offer your subscribers a deal that best matches the content of your message. This will allow you to create meaningful ads that will truly resonate with your recipients, as well as allowing you to segment and run different campaigns at the same time.
Data insights
With your current email set-up, there is probably only so much you can learn from the messages that you deliver. With an email ad server, you will get access to all sorts of valuable data that will clearly show you how specific ads perform. This information will allow you to create even better emails in the future with an even higher conversion rate, which means more money in your pocket.
Related
Pros and cons of email advertising

"There are many internet marketers and advertisers out there who believe that email is no longer a valid method of reaching the masses, and as such, they abandon it altogether. This is actually a big mistake because email is still a very valid, oftentimes effective way of reaching a lot of people, and all without investing a lot of time or money. " More

Ad serving tips for email marketing

"There are countless different ways to get the word out and make money via advertising. While some advertisers focus on website ads, there are plenty more who understand the power of email. " More

What are the pros and cons of advertising via email newsletters?

"One of the great things about advertising is that there are now multiple ways of reaching your target audience. Traditional marketing methods now sit side by side with online forms of advertising, with the latter proving to be very popular with small businesses, mostly due to the lower costs associated with running an online campaign. " More