Ad serving tips for email marketing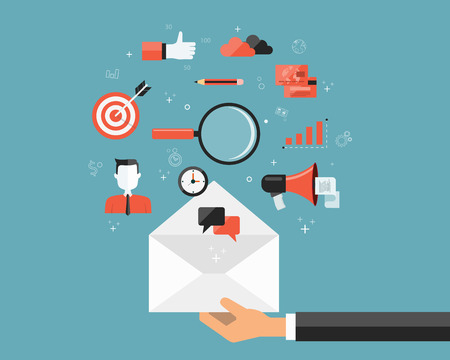 There are countless different ways to get the word out and make money via advertising. While some advertisers focus on website ads, there are plenty more who understand the power of email. This is a form of advertising that has been around for quite some time, and while new methods come and go, email advertising remains as a cost-effective way to quickly get the word out to a lot of people with just a single click. However, you will receive better results if you take the time to craft emails that appeal to the recipients. Listed below are some ways to improve your email marketing results:
Create email templates with designated ad spaces
The goal with online advertising, besides generating clicks, leads and sales, is to make the ads look as natural and as attractive as possible. Yes, you want them to stand out, but you also want them to look like an organic part of your website or email. With email ads, you can design email templates with ad placements in areas where they are clearly visible but not a dominant part of the message. Making them too big and bold can create a cluttered mess if not properly designed and can lose its effectiveness if used too frequently.
Don't lean on newsletters alone
When you think of email advertising, it is usually newsletters that spring to mind immediately. The idea here is that recipients are getting something interesting and valuable, with the ads tossed in for good measure. However, newsletters should not be your only form of getting the word out. Routine and transactional emails should also be part of your email marketing campaign. They might be less attractive but they are high in volume.
Use an email ad server
Managing your emails and ads on the fly is important, so is having access to detailed reports that clearly show how well your marketing efforts are going. The most effective way to do this is to team up with a reputable
ad server
that supports email ad serving. It is perhaps the easiest way to change your ads quickly without the need to mess with email templates constantly and track impressions, clicks and other ad metrics.
Take advantage of email macros/tags for better reporting and targeting
It is impossible to make everyone happy with every email ad that you send out. You can certainly improve your chances of your emails being opened and ads clicked on when you customize your marketing efforts by targeting a specific group of subscribers. Email macros of the email distribution platform combining with ad macros from the
email adserver
are the way to make this happen. You will also find that by segmenting your audience in this way, your reports and data will become clearer.
Start slow
Before you start hammering out all manner of different email ads, it's always a good idea to build up your audience first. When you do decide to start introducing ads, do it slowly. This will give you an idea if your subscribers are receptive to the idea. If you are getting low click rates or are seeing people opt out once you start using ads, it may be that you don't have the audience for it yet. If, on the other hand, they are receptive, you can slowly add more if needed and after a serious consideration of pros and cons in doing that. However, always keep in mind that advertising should never be the main focus of the email because that's not why your audience gave your his/her email address initially.
Related
Top considerations when choosing an email ad server

"There are countless different ways to use advertising to reach a lot of people quickly and efficiently. In terms of cost, one of the best ways to get the word out without breaking the bank is via email advertising. " More

What you need to know about email ad serving?

"Email is still a very viable way of reaching your target audience, but it's a method of marketing that has to be approached very carefully. Where things can get tricky is if you are juggling ads from different advertisers, you might end up blasting our emails containing ads that are only relevant to very few people on your mailing list. " More

What are the pros and cons of advertising via email newsletters?

"One of the great things about advertising is that there are now multiple ways of reaching your target audience. Traditional marketing methods now sit side by side with online forms of advertising, with the latter proving to be very popular with small businesses, mostly due to the lower costs associated with running an online campaign. " More