What is self-service advertising?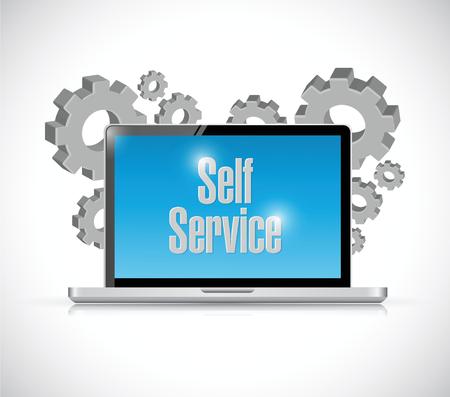 Finding advertisers to place ads on your website can be a full-time job all by itself. It can be costly to hire and maintain a dedicated ad sales team. This is why the self-service model can be very effective. It makes the whole process convenient for you and for your advertisers so that you do not have to micro-manage or search around for advertisers on your own. The advertisers can literally serve themselves once your self-service advertising program is set up properly. As a bonus, you do not have to offer all of your ad space to self-service ads. You can have both self-service advertising and an ad sales team for larger and more complex contracts.
How does it work?
Basically, you first set up a media kit, and then you can add an "Advertise with us" link on your website. This link will point to an
ad server
with
self-service advertising
features. The media kit will present all information about your offer to potential advertisers. This often include ad rates, audience demographics and the locations that you have available on your website such as which pages and where on the page the ads will appear, and so on. It can also include ad metrics, as well as an easy form for advertisers to create their ads. Many self-service ad servers even have an ad creation wizard so that any potential advertiser can create an effective ad via the wizard. There are also many ad targeting options that give advertisers even more control of their ad campaigns. They can have their ads display only in certain situations or locations that will increase the likelihood of the ad being clicked on by an interested viewer. All these features are designed so that a new ad order can begin serving without any unwanted delay. To get started, the advertiser signs up for an account and begins the ad order process. All of the advertiser's contact details and login information is managed by the ad server.
Generally, invoices are generated automatically by the ad server for any new self-service advertising order. The invoice needs to include the advertiser's contact and billing details. This way, multiple advertisers can sign up and place orders simultaneously without you worrying about data mixup. It also helps to automate payment by including a payment button or payment instructions on each invoice. The ad management system often includes an invoice management area so that you can see which invoices are paid and which invoices are pending so you can follow up with the advertiser to collect the ad payment.
Once the ad order is paid and the ad is submitted, the website owner can see incoming ads and check if they are acceptable, and either approve or reject them. So this means with a single button, a publisher can go down the list of incoming ads and approve them for circulation on the website. A rejected ad will require further adjustments from the advertiser.
Should I offer self-service advertising on my website?
Many website owners find the self-service approach to be one of the most efficient and easiest ways to sell advertising. Once the first ad is set up and running, you can continue building a mutually beneficial business relationship with your advertisers over time. Self-service advertising provides publishers with a solid income stream to support the operations of their websites, while at the same time letting advertisers take control of their own ads.
Related