Summary for 2007
Happy Holidays 2007! Our team at AdSpeed would like to wish you and your family a very happy holiday season and a great new year 2008. During this holiday season, our response to your technical tickets might be a bit slower than usual and we really appreciate your patience. For your information, we always have staff monitor the ad servers together with multiple third-party monitoring services.
Content Delivery Network
December 23, 2007 - Fast Delivery Add-on subscribers now can upload unlimited number of media files to our servers and our system will generate a download link for use in any application, including setting up custom RichMedia ads.
New features - city targeting, wmode for SWF ads
November 21, 2007 - You can now target ad serving geographically down to
city level
and manually modify the
wmode setting
for SWF/Flash ads.
Coming soon - Self-service advertising
June 01, 2007 - We are very excited to notify our team is working hard to release a set of related features that will facilitate the media buying process between publishers and advertisers. The most recent change with campaign and other additions are related and please rest assure that all of your feedback and suggestions will be considered and acted upon. Please be patient in the next couple weeks as we improve and sort out any problem related to this release. Thank you!
Introducing AdSpeed API
April 25, 2007 - AdSpeed API (Application Programming Interface) is an add-on service we provide to our clients. Publishers and advertisers can write software to automatically collect information about their zones, ads, campaigns, reports directly from AdSpeed.
Learn more
Enhanced visitor stats
March 06, 2007 - Visitor stats are now enhanced with interactive Google maps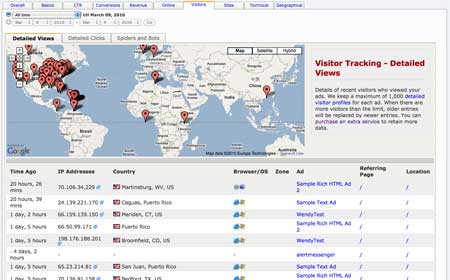 Stats report on US states & Canadian provinces
January 26, 2007 - For US and Canada, you can see the number of visitors from each state/province with a map and a data grid. For other countries, you can see the ranking list of regions and the number of visitors.
Block ad serving to web spiders/crawlers
January 26, 2007 - To avoid wasting impressions and retain accurate stats, you can choose to block ad serving to non-human visitors, including web spiders/crawlers. This option can be enabled and disabled by following the menu Home/Profile and click on Options.
Related
Summary for 2006

"Happy Holidays 2006! A new year is coming and we thank you for your business in 2006 and look forward to deliver even more new features, more ad servers and more value to you in 2007. Our technical support response will be slower during this holiday season but we always have staff monitor the system performance 24/7/365 and make sure they operate smoothly. " More

Summary for 2008

"All of us at AdSpeed join in saying "Thank You" and Wishing you a very Happy Holiday and a Successful New Year in 2009. You have entrusted us with a great responsibility and we sincerely appreciate your business. " More

Summary for 2005

"Frequency/Time Capping December 07, 2005 - New restriction methods allow you to limit a number of views for each visitor within a period of time. For example: " More