AquariumFish.net Publisher Profile
AquariumFish.net offers advertising space to vendors who sell tropical fishes and other specialized products for pet fishes. Thanks to its large number of visitors, AquariumFish delivers a great platform for advertisers to reach tropical fish fanatics and hobbyists as well as corporate and private aquariums.
The Problems
Before using AdSpeed, AquariumFish had several major problem with publishing and managing ads. It was a time-consuming and labor-intensive process. With many ads to manage, the owners had to make frequent modifications to their website. The technical requirements were too demanding to be mastered. It was also difficult to track ad performance and report to the advertisers with accurate details.
The Solution
AdSpeed's user-friendly interface makes it easy for AquariumFish to publish and manage ads. The interface requires very little technical knowledge of coding and HTML. The instructions are simple and straightforward, allowing them to publish, manage ads and earn revenue in no time.
AdSpeed allows AquariumFish offer customized ads to its advertisers. Our technology provides a user-friendly interface to customize banner ads and text links with many possibilities. This helps individual advertisements to stand out from other competing ads and attract more customers, more quality leads to advertisers and more revenue to AquariumFish.
AdSpeed also allows AquariumFish to apply targeting restrictions on ads to any specific time zones and geographical locations. If an advertiser only ships his fishes locally, his advertisement will only be displayed to the serviceable areas. This ad has the potential to reach the maximum target customers, while allowing AquariumFish to reserve the extra impressions for other advertisers, maximizing its revenue. Without this targeting feature, AquariumFish would have wasted a great number of impressions when international visitors view offers that simply are not available to them.
AdSpeed offers AquariumFish with a top-notch ad serving technology at a fixed and affordable monthly rate. AdSpeed does not take any sales commission so AquariumFish earns 100% of revenue from its advertisers. AquariumFish only pays a fixed monthly fee to cover the cost of serving and tracking the ads. AquariumFish can choose how much to pay from our different plans depending on the number of monthly impressions. We also offer monthly bonus impressions that grow increasingly with the duration of using AdSpeed. The longer they use our service, the more bonus impressions they are awarded. In case they use more impressions than the plan allowed, AdSpeed's Free Overage Insurance will cover them, providing them with 30 days to upgrade to a larger plan without interrupting the service.
AdSpeed takes pride in providing great stability. AquariumFish has a large number of visitors that totals more than 50,000 visitors daily. AdSpeed has servers across U.S., Europe and Asia, ensuring a stable infrastructure for the fastest ad delivery to all visitors.
AdSpeed presents comprehensive performance reports to AquariumFish in the most intuitive ways. The Baileys have total control of all the data, allowing them to report to existing advertisers and attract new advertisers. The report provides them with ad metrics on impressions and clicks for every hour, day, week, month, and year.
AdSpeed has a knowledgeable and personal customer service team to assist AquariumFish with various issues from consulting, training, troubleshooting to fixing any issues quickly. Our customer service department can be reached through phone, live chat, email and online help desk. The relationship with each customer is the most valuable asset to AdSpeed.
About AquariumFish.net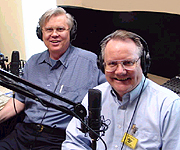 The Bailey Brothers, Nevin and Tom, have been partners in the tropical fish business for more than 35 years. Since June of 2002 they have been the hosts of Pet Fish Talk, a weekly Internet show about keeping pet fish in aquariums, fish bowls, and ponds. AquariumFish.net is their website for everything about fish, from starting your own aquarium to advice for handling and caring for different kinds of fish. It is also a successful and profitable platform for advertisers of fish-related products to promote their inventory to more than 50,000 prospective customers who visit AquariumFish daily.
About AdSpeed.com
AdSpeed is an independent ad server and ad manager, combining the latest ad serving technologies with advanced web analytics. With trillions of ads served to satisfaction since 2000, AdSpeed provides a complete solution to manage ad inventory and maximize your advertising revenue. You enter your ads and targeting criteria into our system. We serve ads, track and report real-time statistics about ad impressions, clicks, revenue, and conversions. You manage your ad inventory through our user-friendly interface. Our goal is to help you execute your online advertising strategy efficiently.
For more information about using AdSpeed to manage your ad inventory effectively and bring in more revenue, contact us today.
Other Articles in Case Studies
See how our clients solve their advertising problem with AdSpeed
Ad Server
.
Cannot find an answer for your question? Ask our Customer Care team
Related